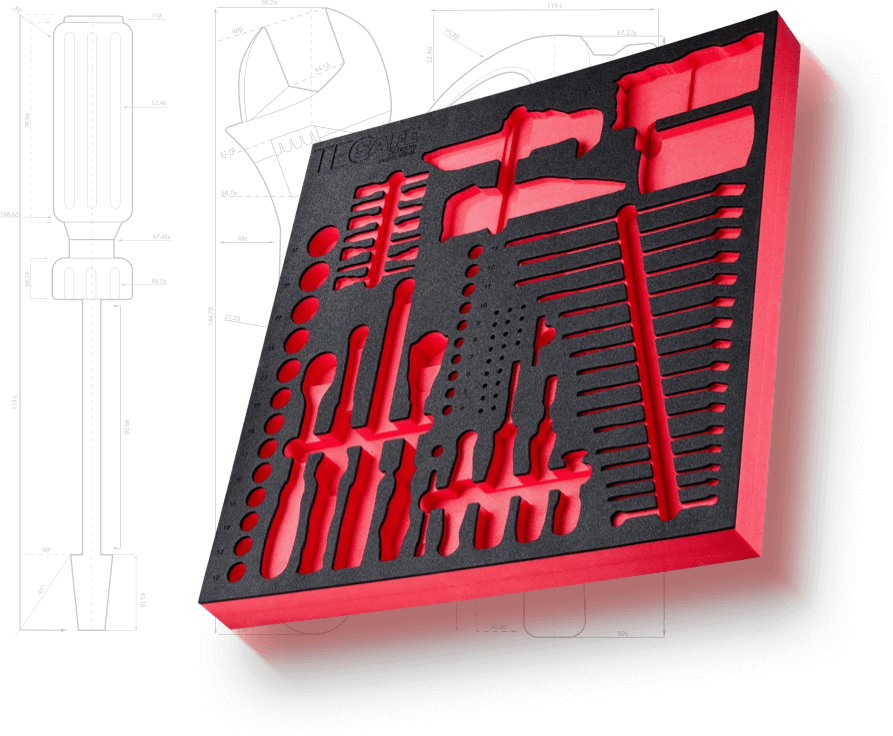 TECSAFE
High End Protection for your Products
Founded in 2010, TECSAFE has become a leading manufacturer of foam inserts for storage, protection, transport and packaging applications.
more information

Over 2.500m²
for Production and Logistics
Custom Designs
in the Smallest of Quantities
About TECSAFE
No Stopping From The First Second
TECSAFE
Our Philosophy
"Maximum Quality and Rapid Realisation"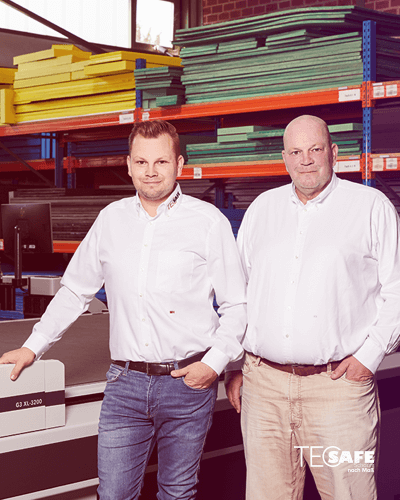 Maximilian Hermes & Knut Hermes
Founded in 2010, TECSAFE has become a leading manufacturer of foam inserts for storage, protection, transport and packaging applications.
Father and son Knut and Maximilian Hermes started out ten years ago with a small-scale operation producing foam inserts. We now have two production sites and a customer base that includes over 100 manufacturers, retailers and associations. The steadily growing demand from our customers is currently being handled by a workforce of over 40. Germany's FOCUS magazine has already awarded us the accolade of "Growth Champion" no fewer than three times.
Our success is no accident. From the very outset, our family company has focused on technical innovation and the highest quality standards. This benefits our customers in the form of extremely fast delivery times, industry-leading online configuration options and superior product quality. Throughout our journey, we have maintained our passion for bespoke solutions and still enjoy being able to support our customers with tailored storage and packaging ideas.
more information
"Our Philosophy: Maximum Quality and Rapid Realisation"
TECSAFE
Environmental Responsibility
High-quality polyethylene foam is formed exclusively through the application of CO₂. As a result, it is 100% free of chemical vapours and is the most environmentally friendly foam of its type.
more information
100% Free of Chemical Vapours

Solutions
Industrial Solutions
Solutions
Protecting and Organising Sensitive Tools
Industrial Solutions
Minimum Weight, Maximum Stability, Optimum Protection
Logistics Solutions
Ideal for 5S Processes and Kanban – when every move needs to be perfect
Workflow & Process Optimisation
Everything can be packed away safely and to a high standard.
Packaging
Optimum Material Quality for Durability
Innovative Contour Capture Technologies
Digital Processes for Fast Delivery
Custom Designs in the Smallest of Quantities
Largest Contour Database
with more than 25,000 branded tools from over 12 manufacturers
Testimonials
Our Customers on TECSAFE
Testimonials
Hoffmann Engineering Services GmbH
Tool Trading Company
raaco A/S
Producer of Storage Systems
STAHLWILLE Eduard Wille GmbH & Co. KG
Producer of Tools
Wüsthof GmbH
Producer of Cutlery
United Salon Technologies GmbH
Producer of Cutlery
We've been using TECSAFE's flexible and reliable services for ten years now. During this period of close collaboration, we've come to particularly value the continuously high quality and precision of the products, which we're pleased to pass on to our customers.
Klaus Schmitt
Senior Director Work Stations + Storage

We have a long-standing and close partnership with TECSAFE. We particularly appreciate the exceptional flexibility and level of innovation when it comes to creating new product solutions.
As a result, we're now able to offer our customers made-to-measure foam inserts for our unique compartment box and case concept.
Peter-Thomas Damberg
CEO

From the moment we started working together, TECSAFE has impressed us with its systematic approach, extremely flexible production times and rapid response – even in the case of special, bespoke customer requests.
Stephan Pränger
Product Management

What particularly impresses us about TECSAFE is its creative and experienced advice. We greatly appreciate its high level of flexibility and rapid response when formulating proposed solutions.
Nicolas Kern
Purchasing

We see TECSAFE as a local company providing a very personal service. The great advice and the use of innovative materials helped us create an impressive packaging solution.
Uwe Schlichting
Product Manager Scissors and Knives

Highly Satisfied
Customers.
Software Solution
Configurator
Online Foam Configurator
A Custom Foam Insert in a few Simple Steps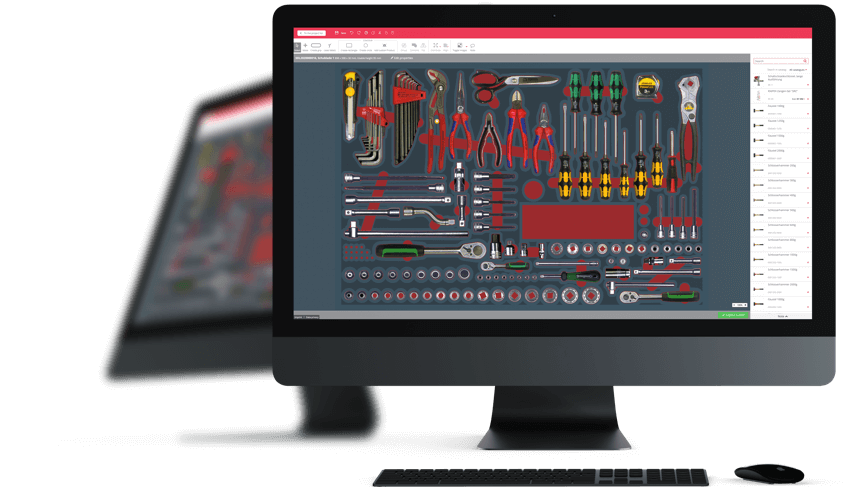 SchaumDesigner, our Online Foam Configurator System, enables the customisation of foam in a fast and intuitive way. Every time, everywhere.
more information
References
Reference Customers
Hoffmann GmbH Qualitätswerkzeuge, Munich, Germany
Hch. Perschmann GmbH, Brunswick, Germany
Gödde GmbH, Cologne, Germany
SFS unimarket AG, Switzerland
Airbus Group, Bremen, Germany
APEX Tool Group, USA
Bausch+Ströbel Maschinenfabrik Ilshofen GmbH+Co. KG, Ilshofen, Germany
BECKER-MANICURE Siegfried Becker e.K., Solingen, Germany
BÖKER Baumwerk GmbH, Solingen, Germany
Brand OS GmbH & Co. KG, Fellbach, Germany
Brangs + Heinrich GmbH, Solingen, Germany
B.W.L. Handels-GmbH & Co KG, Osnabrück, Germany
C I M C O – Werkzeugfabrik Carl Jul. Müller GmbH & Co. KG, Remscheid, Germany
Müller GmbH & Co. KG, Remscheid, Germany
Credo Handelsgesellschaft mbH, Haan, Germany
Dönges GmbH & Co. KG, Remscheid, Germany
E/D/E – Einkaufsbüro Deutscher Eisenhändler GmbH, Wuppertal, Germany