About TECSAFE
No Stopping From The First Second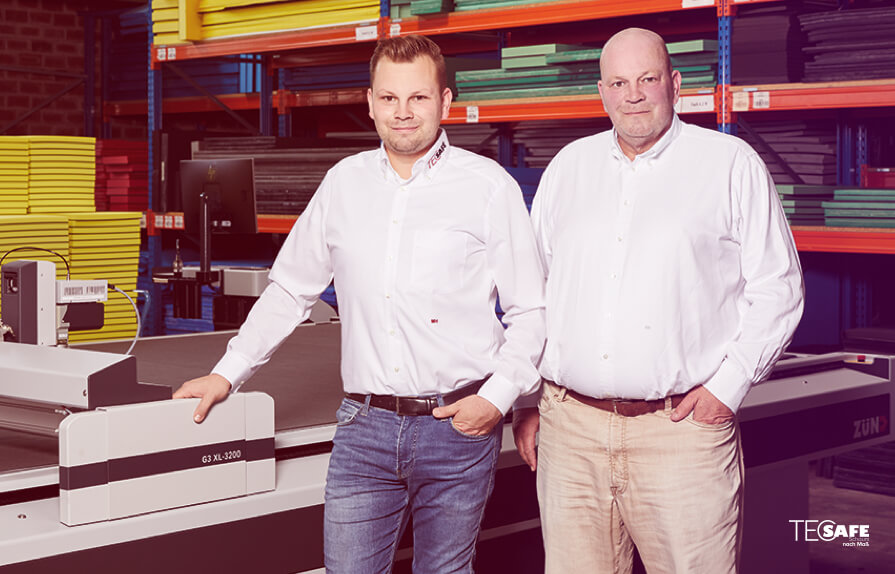 Founded in 2010, TECSAFE has become a leading manufacturer of foam inserts for storage, protection, transport and packaging applications.
Father and son Knut and Maximilian Hermes started out ten years ago with a small-scale operation producing foam inserts. We now have two production sites and a customer base that includes over 100 manufacturers, retailers and associations. The steadily growing demand from our customers is currently being handled by a workforce of over 40. Germany's FOCUS magazine has already awarded us the accolade of "Growth Champion" no fewer than three times.
Our success is no accident. From the very outset, our family company has focused on technical innovation and the highest quality standards. This benefits our customers in the form of extremely fast delivery times, industry-leading online configuration options and superior product quality. Throughout our journey, we have maintained our passion for bespoke solutions and still enjoy being able to support our customers with tailored storage and packaging ideas.
Our Philosophy: Maximum Quality and Rapid Realisation
About Tecsafe
TECSAFE Means Quality & Innovation
quality
Our success is no accident. From the very outset, TECSAFE focuses on 3 convictions:
Premium Inside And Outside
That is why TECSAFE deliberately chooses to use materials of the highest quality. Over the years, we have realised that, despite the associated costs, quality really does pay for itself at the end of the day. Our products combine an above-average service life with excellent robustness in everyday use. Another feature of the raw material is the way it is manufactured.
Fully Digital
Our production operations are now almost fully digitalised, which works to the benefit of our customers. For example, our impressively short production times enable us to meet all the latest inventory reduction and just-in-time delivery requirements.
Our advanced laser technology opens up opportunities for organisational elements and personalisation. Details such as workstation IDs, article numbers and serial numbers can be laser-etched anywhere on the surface of the inserts in various font styles and sizes. Logos and pictograms are also easy to add.
Ecologically Aware
We differentiate between chemically and physically foamed plastics.
The material we use most is foamed using a vacuum process, which makes it the most environmentally friendly option of its kind. PE and POM are ideal for environments where work needs to comply with hygiene standards, such as the food industry. We process these materials, too.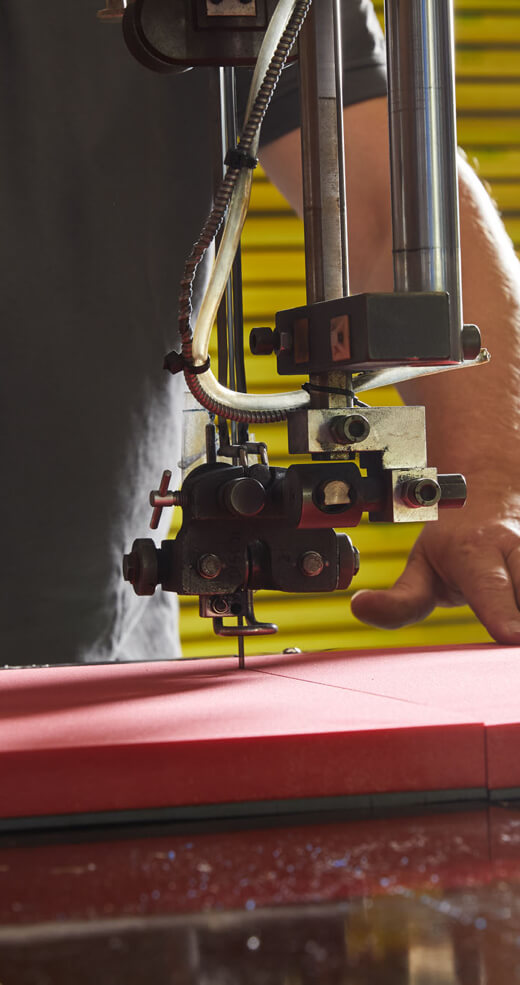 Over 2.500m²
for Production and Logistics
Custom Designs
in the Smallest of Quantities
About TECSAFE
Our History in Numbers
History

Extension of machine park
April 2023
The number of milling machines grows to 28.
New laser machine
August 2023
TECSAFE expands their capacities for individual layout labelling via laser engravings.
Golive TECSAFE Online-Shop
December 2022
In cooperation with leading tool manufacturers, TECSAFE now offers individually configured foam layouts to consumers.
Expansion of cutting technology
October 2022
The semi-automated production street is complemented by a third cutting machine.
Expansion of automation
July 2022
In connection with the first partial automation, another robot will be installed for a self-sufficient production line.
Conversion to semi-automatic production
December 2021
A new milestone in TECSAFE's production processes is reached with the first robot in the production line.
Own material processing
January 2021
TECSAFE expands the machine park with a splitting and laminating machine, which means that customer requests can be addressed even more individually. Own material processing.
Opening new logistics area
2020
Opening of the new logistics building
Expansion of logistics area
January 2019
Beginning of expansion of logistics area in Solingen by 400m². Production is also expanded and the machine parks grows to 26 milling plants and by a second automated cutting machine.
Expansion of machine park
March 2018
Production is expanded and the machine parks grows to 21 milling plants.
Growing machine park
November 2017
Production is expanded and the machine parks grows to 17 milling plants.
Automated cutting technology
March 2016
Automated cutting technology is introduced. 10 milling plants.
Move to bigger production site
December 2015
The company moves into its new headquarters on Dingshauser Straße in Solingen.
Extension of machine park
December 2014
The machine park is extended to 8 milling plants.
Go-Live Online-Foam-Configurator
August 2013
Online Foam Configuration System 2.0 goes online.
Increase of production capacity
March 2012
The machine park is extended to 4 milling plants.
Online-Foam-Configurator
April 2011
Developement work starts on Online Foam Configuration System 2.0.
Start of production
July 2010
TECSAFE GmbH is established. 1 milling plant.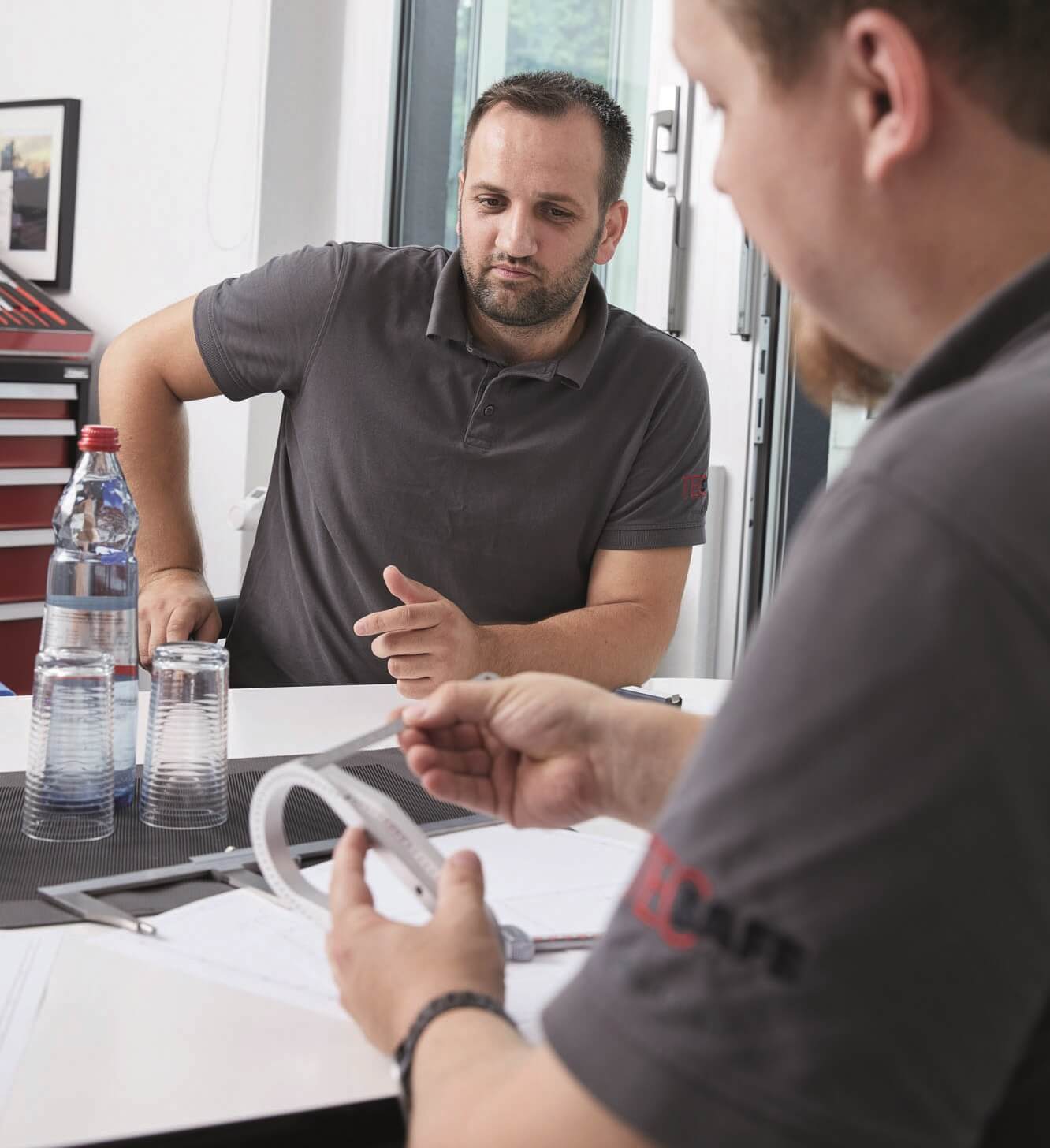 Industrial Solution
Consulting
Contact
Contact